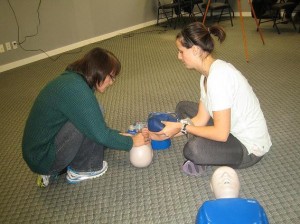 Would you know what to do if an infant was choking? Do you know the signs and symptoms of an obstructed airway? A partial obstruction? Learn these techniques and more by taking a CPR course with Edmonton First Aid that incorporates infant CPR and breathing emergency rescue techniques. This Alberta OH&S-approved provider is the largest, lowest priced, and most experienced provider in Edmonton. It offers comprehensive CPR and AED programs and private infant CPR classes in which a trained and certified instructor can come to you. Courses that incorporate these CPR techniques can also be partnered with first aid training in programs such as standard (also known as advanced first aid) , emergency (also known as basic first aid), and childcare first aid. It also now offers blended first aid aid training with online training as well as blended advanced first aid training. Registration is incredibly easy with several methods available including online, chat, email, and telephone registration available. To register for infant CPR training or any other safety, food safe or first aid program use the contact information provided below.
Registration and Contact Information about Edmonton First Aid
To book a private infant CPR course or to register for any online safety or classroom course use the following contact information
Email: [email protected]
Telephone: 1-888-870-7002
Website: http://firstaidcpredmonton.ca
Old Strathcona Training Address: Suite 200 7915 – 104 Street, Edmonton, Alberta, T6E 6M6
Yellowhead Highway North Central Edmonton Training Address: Suite 202, 11823 114 Ave NW, Edmonton, Alberta, T5G 2Y6
Old Strathcona Training Address
Located South of Downtown Edmonton, this Whyte Ave training centre is perfect for students at the University of Alberta and the Hospital. With plenty of places to enjoy and eat at for lunch break this training centre is the ideal location to learn about infant CPR and first aid. For more information about the classroom training location in Old Strathcona in Edmonton check out the Google map posted below.

Yellowhead Highway Training Centre
This training centre is located just south of Yellowhead Highway and north of Downtown Edmonton. It proudly offers courses to All of Northwest and Northeast Edmonton as well as St. Albert. For more information about this training centre check out the map below.

About Edmonton First Aid
Hassle-free registration
Enrolment is quick and easy with Edmonton First Aid. You can send an e-mail, give a call, or visit the Edmonton First Aid website for the online registration form. Trainees are likewise encouraged to register for a course through walk-ins at any of the training centers in Edmonton.
What Courses Involving Infant CPR Are Available?
A number of courses involving infant CPR rescue techniques are available. They are as follows:
Advanced First Aid and CPR
Blended Advanced First Aid and CPR
Standard first aid, CPR level "C" or "HCP" and AED (also known as intermediate first aid)
Blended Emergency First Aid and CPR
Emergency first aid, CPR level "C" or "HCP" and AED (also known as basic first aid)
CPR level "C" and AED
CPR level "HCP" and AED (also referred to as basic life support)
Basic Life Support
Advanced Cardiac Life Support (ACLS)
Pediatric Advanced Life
The following other courses are also available with this provider:
Food Safety Certification
On-Line WHMIS, MSDS and TDG
Fire Safety
H2S Alive
H2S Awareness
Fall Protection Training
Confined Space Entry
What About Supplies?
Yes, at Edmonton First Aid they offer a whole host of supplies including training manikins for sale, first aid kits, AED's and more. View the site for more information.
To register for any of the above-mentioned courses use the contact information posted above.
Certificates from St Mark James are awarded to trainees once the training program is completed. The certificates are valid for three years throughout Canada. Refresher programs are held twice a week for the renewal of expiring certifications.
Inexpensive course costs
Programs are very inexpensive and the costs are only paid once – during enrolment. Rates include everything – taxes, certification fees, and use of training manuals and equipment. If you decide to drop out of the program, full refunds are given as long as a 72-hour notice was done.
Did You Know?
Macular degeneration
Older people commonly sustain injuries due to vision problems. One of the causes of vision problems in the older generation is macular degeneration. The spot in the eye where all the nerves enter and exit is called the macula. When abnormal vessels leak fluid and/or blood into the macular area, it causes vision loss because of damage to the tissue. With early detection and management, the effects of macular degeneration can be reversed.