Grande Prairie First Aid offers prospective students the largest selection of classes, with childcare programs being the most popular. Classes are held throughout the week, with popular programs available during evenings and weekends. Prospective students can visit the website for more details on classes and enrolment. Choose a program and enroll today!
Childcare First Aid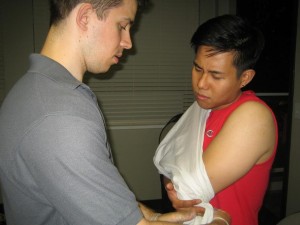 Standard childcare first aid is a two-day program, lasting 18-20 hours in total. The course curriculum focuses on childhood illnesses and injuries, particularly basic first aid tailored for children. Trainees learn different first aid skills and topics such as wound care, cardiopulmonary resuscitation (CPR), and automated external defibrillation (AED). AEDs are machines that supply the heart with needed shock-through pads on the chest.
To pass a class, students need the following:
complete attendance
at least 75 percent on the written exam
a good demonstration of skills
Private training in Grande Prairie First Aid
All instructors at Grande Prairie First Aid are certified by St Mark James and can be booked for private training at home or for company events like conferences. Students with scheduling problems or big groups of trainees can opt for private training as well.
Certification
Certificate cards are awarded to all students who are able to complete a class. Wall-mount certificates are available upon request as well. The certificates are only valid for three years but are renewable through recertification (prerequisites must be met). Childcare first aid recertification is available twice a week, 8-9 hours long. However, some provincial legislation will still require a retake of the entire childcare first aid course (British Columbia).
Rates and enrolment in Grande Prairie First Aid
Course fees are very affordable, paid in full during enrolment, and include taxes, certification fees, and workplace-approved training manuals. Students who drop out are entitled to a full refund of the fees, as long as a 72-hour notice is given beforehand.
Enrolment can be completed using the registration form on the website, through e-mail, telephone call, or walk-in during business hours in any of the facilities in Alberta.
Did You Know?
Basic Life Support
BLS or basic life support is a concept created by the American Heart Association. The BLS serves to set a guideline and standards for performing cardiopulmonary resuscitation (CPR) for victims of cardiac arrest. The basic algorithm followed in the BLS is first, recognition of sudden arrest, second, calling for the EMS, third and fourth, CPR, and automated external defibrillation. Every first aid training program uses this in teach students proper CPR.