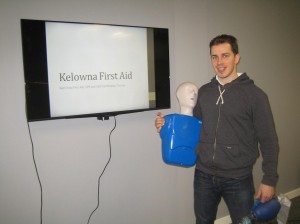 Are you prepared for infant emergencies such as choking and drownings? Would you know what to do if your infant had an obstructed airway? Learn the latest American Heart Association standards in CPR by enrolling in a course with Kelowna First Aid. This nationally approved provider offers a number of certification programs that include infant CPR training. Participants may also register for private infant CPR classes in which the instructor can come to you on your schedule. Public and private courses are available including standard, childcare, and stand-alone CPR level "C" (CPR for all ages).
About Kelowna First Aid
Registration
You can register for a training program through the Kelowna First Aid website, which has an online registration form and a complete list of available classes.
E-mails, telephone calls, and walk-ins are other methods of registration.
To register with this provider, book a private course, or inquire about any of the services available with this provider use the following contact information:
Telephone Number: 1-888-870-7002
Email: [email protected]
Website: http://firstaidkelowna.ca/cpr-courses/
Main Training Address: 301 – 1634 Harvey Ave, Kelowna, B.C. V1Y 6G2
For more information or directions about the training center check out the following Google Map.

Available First Aid, CPR, Safety, and Workplace Required Programs
The following workplace, first aid, food-safe, and safety courses are available with this provider
Standard, emergency, and childcare first aid
CPR levels "A", "C" and "HCP"
Private Infant CPR training
Re-certifications
Babysitting Training
Marine First Aid
H2S Alive
H2S Awareness
Basic Life Support (BLS)
Advanced Cardiac Life Support (ACLS)
Pediatric Advanced Life Support (PALS)
Food Safe Level 1
Food Safe Level 2
Workplace Hazardous Material Information System (WHMIS)
Material Safety Data Sheets (MSDS)
Fire Safety
Confined Space Entry
Transportation of Dangerous Goods (TDG)
Certificates
Certificates are awarded to trainees once they complete a training program.
The certificate is valid for three years, current certificates are renewable through refresher programs.
Refresher programs are available twice a week at Kelowna First Aid.
What will I Learn in an Infant CPR Course in Kelowna First Aid?
Participants that enroll in a course that includes infant CPR training will learn about the following topics
Full and partial obstruction
Difference between adult, child, and infant CPR
Opening the airway
When to contact 911 in one rescuer (no bystander) environments
Effective CPR
Recognizing and managing infant obstructed airways
How to stay safe and be prepared during emergencies
Legal implications of providing aid
How to check vitals on an infant
Learn these techniques and more by enrolling in first aid and/or CPR course in Kelowna today.
Did You Know?
Macular degeneration
Macular degeneration is characterized by the gradual manifestation of vision problems. This happens when the area is known as the macula (where the nerves and vessels exit and enter the eye) is damaged by leaking blood and fluid from damaged vessels.
Visual distortion – such as bending of straight lines, objects appearing smaller or bigger, etc.
Decreased central vision
Loss of intensity/brightness of colors
Well-defined blind spot
Sudden onset
Rapid worsening
Hallucinations (advanced stages)