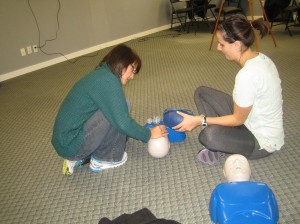 Lethbridge First Aid offers quality training for childcare first aid in Lethbridge, Alberta. Other providers can't complete with the high quality programs and course rates and fees. You are assured of receiving the best training from workplace approved certified instructors in high end training facilities throughout the city. Prospective students can visit the website for more details on signing up.
Registration details
Course fees are very affordable and are paid in full during enrolment. They include all additional expenses such as taxes, certification fees, and training manuals. Students don't have to worry about paying the tuition while training.
The Lethbridge First Aid website has a complete list of available classes, rates, and schedules. Prospective students can use the online registration form to sign up for the class that they want. E-mails, telephone calls, and walk-ins during business hours are also highly encouraged by the staff.
Certificates
Certificate cards are awarded to students who are able to complete and pass a training program. Wall-mount certificates are available upon request. The certificates are only valid for three years but can be renewed through recertification programs as long as prerequisites are met.
Training programs
Childcare first aid is a program that runs a course of 2 days in 18-20 hours. Students are taught basic first aid tailored for infants, toddlers, and children. Topics included in the curriculum are:
Wound care
Cardiopulmonary resuscitation (CPR)
Automated external defibrillation (AED)
Emergency medical services (EMS) system
Trainees learn how to recognize different emergency situations and injuries and how to react to them. The following is needed to pass a class:
Complete attendance
Good demonstration of skills
At least 75 percent on the written exam
Extra training
Students who have problems with scheduling as well as big groups can choose to enrol in a private class. Private instructors can even be booked for special training as well (private training at home, workshops, and conferences).
Did You Know?
Puncture wounds: seek medical help
Seek medical attention if your puncture wound is:
Deep
Persists bleeding
Contaminated with soil, dirt, or saliva
Due to a human or animal bite
Your doctor may also recommend a booster shot if you haven't had one in five years.