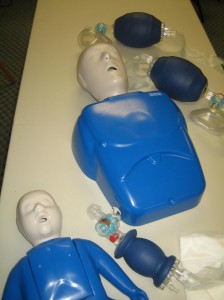 Saskatoon First Aid is the leading provider of infant first aid and cardiopulmonary resuscitation (CPR) training programs in Saskatoon. Since 2007, Saskatoon First Aid has been offering the community high-quality training programs for very inexpensive rates. Different classes in first aid and CPR training are available, with three levels of combined first aid and CPR training courses. Private classes and stand-alone CPR classes are available as well.
Registration
Saskatoon First Aid offers quick and hassle-free enrolment through e-mail, telephone calls, or walk-ins during business hours in any of the training centers. You can also visit the Saskatoon website to view a complete list of available classes and an online registration form.
About Saskatoon First Aid
First Aid training programs for CPR are available in three levels, each level corresponding to a particular workplace-approved training certificate.
Basic first aid and automated external defibrillation (AED) training are available in all the course levels.
Enrolment fees are the only expenses trainees pay for Saskatoon First Aid programs. The rates include taxes, certification fees, and the use of training manuals and equipment.
If you drop out from a training program, you are entitled to a full refund as long as a 72-hour notice was done beforehand.
Stand-alone classes for either CPR/AED or first aid are also available if you just want to enroll in either first aid or CPR/AED training.
Certification awarded to trainees who are able to successfully complete a program is from St Mark James. The certificate is renewable within three years and valid all throughout Canada for whatever purpose it may serve the trainee.
Refresher / re-certification programs for the renewal of expiring certificates are held twice a week.
You can inquire about booking private classes with an e-mail or telephone call. The Saskatoon First Aid staff will be glad to assist you.
Did You Know?
Kidney damage
There are several factors that can increase a person's risk of kidney damage. First aid rescuers need to be able to identify these risk factors, especially in emergency situations.
Hospitalization (intensive care)
Old age
Peripheral artery disease  (clots in blood vessels)
Diabetes
Hypertension
Heart failure
Existing kidney disease
Liver disease