Winnipeg First Aid is the best provider of high-quality infant first aid and cardiopulmonary resuscitation (CPR) classes in Winnipeg. Starting out in 2011, Winnipeg First Aid has been the number one choice for students in the Winnipeg area. Courses in CPR have three categories: "A", "HCP", and "C". Basic first aid and automated external defibrillation (AED) training are included in the programs.
Certification Courses in Winnipeg First Aid
A wide range of first aid courses is available with this Manitoba provider. Here's a basic list of some of the popular courses available that offer training in infant CPR
Emergency childcare first aid and CPR level "B"
Standard childcare first aid and CPR level "B"
CPR level "C" and AED
CPR level "HCP" and AED
Private infant CPR courses
Check out the website today for more information. Click here to view all available first aid courses.
Easy and hassle-free registration in Winnipeg First Aid
Registration for a training course in Winnipeg First Aid is quite easy. Prospective students can sign up through online registration on the Winnipeg First Aid website, e-mail, or telephone call. Course rates are easily the most competitive in Winnipeg.
St Mark James certification
Upon completion of a training program, students are awarded a workplace-approved training certificate. The certificate is valid for three years, and renewable through refresher programs available twice weekly at Winnipeg First Aid. The award must be current in order for it to be eligible for re-certification.
High-quality training programs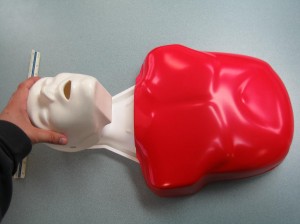 CPR training courses are available in three levels, each level inclusive of basic first aid and AED training. AEDs are machines that detect heart rhythms and apply needed shock to the heart.
Extra classes
Stand-alone classes for CPR or first aid are also available to trainees who only want to enroll in either class but not both.
Private first aid and CPR courses as also available. These programs are available to big groups and companies but you can request a private instructor to train you in your home or workplace as well. You can send an e-mail or give me a call to inquire about booking private classes.
Inexpensive course costs at Winnipeg First Aid
Winnipeg First Aid has the most affordable prices in the Winnipeg region. Enrolment fees include taxes, certification fees, and the use of training manuals and equipment. The fees vary from 40 dollars to 115 dollars, depending on the kind or level of training taken.
Full refunds are given to trainees who drop out, provided a 72-hour notice was done.
Be able to save a life simply by enrolling in a training course with Winnipeg First Aid.
Did You Know?
Kidney Damage
Kidney damage is very serious because the kidneys' function is to filter out wastes and toxins from our blood. When this pair of organs is damaged, high levels of waste are found in the blood, a condition known as azotemia. This can cause chemical imbalances which can cause physical damage to our different organs. Causes of kidney damage include:
Clots in veins and arteries leading to and from the kidneys
Atherosclerotic renal vessels
Inflammation of the kidneys (glomerulonephritis)
Hemolytic uremic syndrome (destruction of red blood cells which means there is less oxygen delivery to the kidneys)
Kidney infection
Lupus
Chemotherapeutic medication, antibiotics
Dyes used in imaging tests