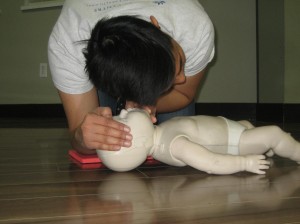 First aid and CPR training for infant victims is provided through the majority of workplace-approved first aid providers. We are currently partnered with a number of workplace-approved providers that offer a range of courses that include infant CPR and first aid. All of our training partners offer the latest first aid and CPR techniques and methods for infant rescues. Providers follow the latest requirements as provided by the International Liaison Committee on Resuscitation (ILCOR). This committee promotes and provides the latest statistics and methods of CPR for all workplace-approved providers. Our training providers ensure they follow the latest guidelines and standards for infant rescues. Our training providers provide friendly and welcoming environments, convenient and comfortable training centers low prices, and exceptional courses. workplace approved infant first aid and CPR providers are located in Edmonton, Vancouver, Ottawa, Calgary, Winnipeg, Surrey, Kelowna, Regina, and Saskatoon. Select your location for more information about the premium workplace-approved provider in your region or select your region from the menu.
Infant CPR  Training Available Through Featured workplace approved Courses
Infant first aid and CPR are provided through a number of courses including CPR level "C", CPR "HCP", standard first aid, and standard childcare first aid. All of these courses are offered by our training partners. Information and registration for any of these courses in a private or classroom environment are available at our training partners' websites which are displayed on the location page of your choice. Customers can enroll in these courses via several different methods including simple online registration. Potential customers can also register via telephone or email during regular office hours (9 am to 5 pm).
Our CPR Training Partners
Our training partners strive to offer the most convenient programs and classes offered by the workplace approved. Classes are offered throughout the week which includes week-nights weekday and weekend courses. Other available courses include childcare first aid, basic CPR level "A", food safety/handling training, and a number of re-certification courses. All of these courses are available at the lowest prices in your area.
Learn These Basic Skills
Learn the simple, most up-to-date skills to know how to recognize and manage the most frequent infant first aid emergencies. The skills provided in these workplace-approved infant first aid and CPR courses will provide you with the confidence and the hands-on training to help you save the life of a loved one at any age.
Before signing to receive a bonus offer with no deposit offer, it is
There are also free games for your smartphone or tablet making it easy online casino fast withdrawal to play real money.
important to fully understand these conditions.