ACLS: Advanced Cardiac Life Support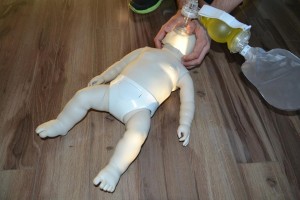 ACLS training is a must if you work in the healthcare, especially healthcare professionals. ACLS programs are long, lasting over two days. They teach a variety of advanced skills in medical management of cardiac conditions, covering medication and its administration and the use of medical equipment, including diagnostic tools. Because these topics and skills can only be performed by professionals, only they can take the program. We even require HCPs to have a Basic Life Support for HCPs credential before they can proceed with ACLS (or PALS) training.
Included in an ACLS program:
Cardiac medication and dosage (adult and pediatric)
Electrocardiogram reading (ECG)
Compression and ventilation
Defibrillation with an automated external defibrillator (AED)
Equipment set up (e.g. mechanical ventilator)
Program details:
2-day program, 16 hours
Re-certification available, 5 to 6 hours
Only for HCPs
Requirement: valid Basic Life Support for HCPs training certificate
Heart disease in America
Heart disease isn't only the leading cause of mortality in America; it is also the leading cause of mortality in the world, for both men and women. More than half a million Americans die each year because of heart disease, being the number one killer of American men and women. The risk factors for developing heart disease are primarily lifestyle based, or modifiable risk factors. As rescuers, it is important that you can educate people about the changes they can make to their lifestyle in order to lessen the risk of acquiring heart disease.
You can avoid getting heart disease by:
Avoiding too much fat, bad cholesterol (low density lipoprotein/LDL), and sodium in your diet
Get regular exercise, a least three times a week for thirty minutes to an hour (e.g. brisk walking, running, and jogging)
Avoid vices, especially smoking
What happens during a heart attack
The most common kind of heart disease is CAD – coronary artery disease. Coronary arteries are small blood vessels that supply the heart with blood. Like all other areas and organs of the body, when the heart is deprived of oxygenated blood, it will stop functioning adequately – causing cardiac arrest. This happens when the coronary arteries get blocked by fatty plaques which decrease blood flow to the heart muscle.
CPR helps the situations by compressing the chest and therefore the heart, allowing it to be manually pumped. The rescue breaths (given after 30 compressions in a single cycle) give oxygen to the blood, which is then circulated through the body with each chest compression.
We have eight total classes available to our students: three Basic Life Support classes, two Advanced Life Support classes, and three re-certification classes.
BLS – Basic CPR and AED for the general public
BLS – Basic CPR and AED for HCPs (healthcare providers)
BLS – Basic Life Support for HCPs*
ALS – Advanced Cardiac Life Support (ACLS)*
ALS – Pediatric Advanced Life Support (PALS)*
*with available re-certification classes (re-certification classes have to be taken every two years, to renew your existing training credential)