Basic Life Support training is not something that is on a layperson's radar of "must-have" skills. However, each year over 600,000 Americans die from heart problems, most often due to heart attacks. With CPR – cardiopulmonary resuscitation – the rescuer can help double or triple patient outcomes but only 32 percent of out-of-hospital cardiac arrests receive help from a bystander. Bystanders who are aware of chest compression-only are still scared or anxious when it comes to helping a victim who suddenly collapses. When you train with us, you don't have to be scared of anything!
CPR training is one of the most important life-saving skills you can have.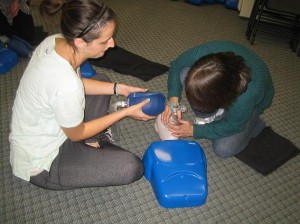 Giving CPR is easy when you train with us. You just need remember two important things: assessment and intervention. We teach our trainees to be able to assess that a victim has experience cardiac arrest and needs immediate CPR and medical attention. A rescuer should:
Check for the pulse in no more than 10 seconds.
Assess if the victim is breathing normally.
Call for help.
Begin CPR, starting with 30 chest compressions.
Give two rescue breaths and begin another cycle.
In the event of a cardiac arrest, the heart cannot function adequately. This means there is poor circulation of blood in the body, and our organs become deprived of oxygen. Without oxygen, our cells begin to die – an irreversible process. With CPR, the heart beats manually through the force of chest compressions  and oxygen is delivered to the blood through rescue breaths.
Training in CPR
Our CPR programs are spaced throughout the week, including weekends. You will surely find a schedule that fits your needs if you decide to train with us. In the case that you do not find a class where you can enroll, private sessions are also offered. Just send an e-mail, give a call, or ask us in person during business hours.
Our CPR courses are divided into two categories: basic and advanced. Basic Life Support courses are focused on skill building in a short time frame, typically 4 to 4.5 hours. The skills that you will learn in a basic class will teach you how to manage cardiac arrest before medical help arrives or before the victim is brought to the hospital.  Basic lifesaving CPR involves the use of chest compressions and rescue breaths to stabilize the victim.
More advanced courses will teach a student medical management of cardiac arrest, which is why they can only be taken by healthcare professionals. Medical management involves a lot of new skills, such as medication administration and setting up medical equipment, as well as new information, such as common cardiac medication and dosages.
Available courses
Basic Life Support
Heartsaver CPR – Basic CPR and AED training (general public)
Heartsaver CPR C – Basic CPR and AED (for HCPs)
Basic Life Support for HCPs
Advanced Life Support
Advanced Cardiac Life Support (ACLS)
Pediatric Advanced Life Support (PALS)
After you complete the courses above, you have to renew your certificate through a re-certification course. Re-certification courses are only available for Basic Life Support for HCPs, ACLS, and PALS programs.