Fact Checked
Heart Attack Must-Knows
First aid for heart attack can greatly improve the outcome of victims. But before you can provide first aid, you need to know more about heart attack.
When you talk about heart attack, you can forget about the 'six degrees of separation rule'. It is a very common disease. Almost everyone has a friend or a relative or a friend-of-afriend or a relative-of-a-friend who has suffered a heart attack. Heart attack is among the top three leading causes of death in Canada. It is estimated that around 70,000 people suffer from heart attack each year in our country. It means someone suffers from it every 7 minutes. First aid for heart attack can help minimize or prevent the complications and deaths due to this heart disease.
What is heart attack?
Heart attack, also called myocardial infarction, occurs when blood supply to certain parts of the heart is blocked. An artery or arteries may be blocked by a blood clot. In rare cases, a heart attack is due to a severe blood vessel spasm. This results in the cutting-off of the blood supply towards the heart. The longer the heart muscles are deprived of oxygen and nutrients, the more damage results. If a large area of the heart is affected, it can cause the heart to become ineffective, which can lead to heart failure and/or death. Rendering prompt and effective first aid for heart attack is essential in reducing potential serious complications.
What to do if someone is having a heart attack?
If you think someone is having a heart attack, call 911 or your local emergency number immediately. Emergency medical services personnel have the necessary equipment and training to stabilize and treat the victim. First aid for heart attack consists of performing cardiopulmonary resuscitation and using emergency defibrillation to reset the heart if it develops abnormal heart rhythm. While waiting for help to arrive, the victim must stop with any activity and try to stay calm. Keep the victim in a warm and comfortable position. Do not hang-up the phone, unless instructed by the medical dispatcher. Usually,
the dispatcher will give instructions; be ready to follow these instructions. Do not leave the victim and provide reassurance.
If the victim is conscious and alert, give them an aspirin tablet, if instructed by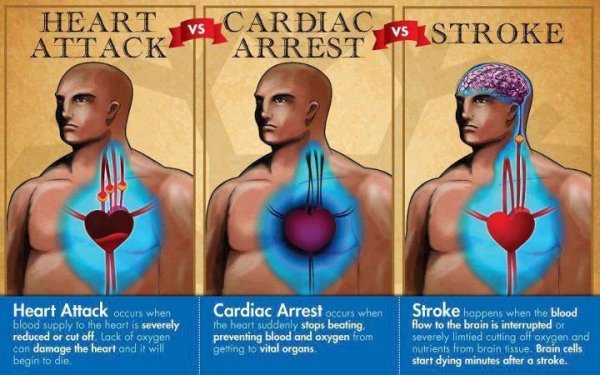 the dispatcher and if the victim does not have allergy to it. Do not delay activating the EMS. It is generally recommended to call emergency medical services and wait for the ambulance to arrive instead of driving the victim to the hospital. EMS personnel can render immediate first aid for heart attack at the scene of emergency. Moreover, they can provide emergency defibrillation along the way if ever the heart stops beating. EMS ambulances also have communications equipment which they can use to notify the receiving emergency department. This way the hospital can prepare for the arrival of the victim, allowing faster treatment.
If the victim becomes unconscious, no pulse and breathing, be ready to initiate CPR. If you have not completed any first aid for heart attack course, the emergency medical dispatcher will usually guide you through the process. If there is a nearby automated external defibrillator, have someone get it. Follow the easy step-by-step guide and verbal prompts on how to use the device.